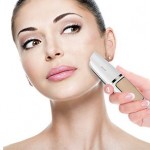 Adorn is a sophisticated 3D makeup pen, combining an advance skin tone sensor, bright led lights for illumination and multi-hued makeup in a portable water proof and meticulously designed gadget.
Skin tones change with the seasons, with ladies going from deep sun kissed summer glows to lightly tanned beige in a matter of months. This means that finding the right foundation shade is a dynamic and frustrating task. Adorn is putting an end to foundation frustrations, with its next generation 3D printing technology that pinpoints the perfect shade, guaranteed.
Achieve a flawless face in few simple steps: scan, print and apply.
Using advanced scanning, blending and printing technology, Adorn creates bespoke foundation shades at the touch of a button. In just seconds, an intelligent in-built skin tone sensor scans complexion characteristics with incredible accuracy. Using this data, the internal mixing mechanism blends a unique shade. The blend is then printed straight onto the fingertips for easy application. With millions of color combinations, finding a superlative shade has never been easier.
Source: Getadorn.com