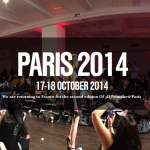 Since it's beginnings in 2012, 3D Printshow has always been an incredible showcase for the 3D printing industry, giving businesses and the public a glimpse into a world that is rarely seen.
English
At 3D Printshow, we believe in showing you not only the potential, but the actual results. Bring in the world's top artists, engineers, architects, designers, doctors and illustrate their 3D printing work.

Our show features are an incredible way for you to interact with 3D printing. From art to architecture, medical science to Hollywood movies, the most incredible thing about 3D printing is what you can create with it.
Buy Paris tickets here.
French
Au 3D Printshow, nous ne vous montrerons pas seulement leur potentiel mais leurs résultats réels. En présence des meilleurs artistes, ingénieurs, architectes, concepteurs et docteurs qui illustreront leurs travaux d'impression en 3D.

Notre salon est, pour le public, une occasion incroyable d'interagir avec l'impression en 3D. De l'art à l'architecture, des sciences médicales aux films hollywoodiens, le fait le plus incroyable concernant l'impression en 3D, c'est ce que vous pouvez créer par son intermédiaire.
La Carte d'accès à la conférence donne à ses détenteurs l'accès aux prestations suivantes :
Exposants 3D Printshow dans la salle d'exposition
Débats entre exposants et chefs de projets sur la scène ouverte
Contenus exclusifs sur la scène industrielle (discours, présentations et débats)
Contenus exclusifs sur la scène spécialisée (discours, présentations et débats)
Liste complète des événements du 3D Printshow
La Carte d'accès à la salle de conférence donne à ses détenteurs l'accès aux prestations suivantes :
Exposants 3D Printshow dans la salle d'exposition
Débats entre exposants et chefs de projets sur la scène ouverte
Liste complète des événements du 3D Printshow
Source: 3dprintshow.com